A group of 16 women humanitarians recently took part in a unique HEIST training in Mali, bolstering the number of women in the country trained to safely deliver aid.
In early June, our Mali training team hosted a Hostile Environment Individual Safety Training (HEIST) for INSO's first-ever all-women group. The 100% female participation was an opportunity to bolster the number of HEIST-trained female aid workers in Mali.
This unique training was the result of a seized opportunity. When the Mali training team noticed that there was an unusually high number of women on the list of early registrations for the June HEIST session, they had an idea.
"We noticed there were already 12 women already registered for HEIST in June," says Training Manager Mickaël Bazin, "The team saw an opportunity. We encouraged our partners to put forward their female staff for this course so that we could make up numbers for a full 16-person class."
Registrations quickly filled up and preparations for the intensive, 4-day course began. A few weeks later, 16 female aid workers in Mali arrived in Banankoro – a small town outside of Bamako – ready to gain more tools to equip them for their work in a challenging environment.
Humanitarian work requires women
Women are at the forefront of humanitarian work, comprising an estimated 40% of the humanitarian workforce. Women around the world are also disproportionately affected by disasters and conflict while playing an important part in delivering life-saving health and relief services. INSO believes women aid workers must have the same access to safety training as their male counterparts.
"Women intervene on the ground, intervene with women beneficiaries and also facilitate access within the communities," explains Lalaissa Abdoulaye Maiga, a Gender and Protection Advisor for OXFAM. Being well-prepared for work in high-risk areas is important for people like her.
Women are increasingly involved in the delivery of humanitarian assistance.
In Mali specifically, some areas where humanitarian needs are rising are becoming increasingly difficult to reach. Women are critical in negotiating access and engaging with local communities.
"We see, in the central region particularly, armed groups are asking that women aid workers take on the activities that are directed toward women. Women are increasingly involved in the delivery of humanitarian assistance," says Mickaël.
But while women play a key role in delivering assistance, in some countries women can also become a target because of their gender. Though these targeted incidents cannot be entirely prevented, being prepared and knowing what to do can make a significant difference. As Bernadette Doyon,  L'Association de Soutien au Développement des Activités de Population (ASDAP) Coordinator says the training helped her to understand not only what to do, but how to behave, should she face a threat either at work or outside working hours.
"A climate of trust"
Its high-intensity, multi-day format means HEIST is always fast-paced and engaging. But what was unique about this experience, participants agree, were the dynamic conversations, as well as the opportunity to discuss subjects from a female perspective and to take on leadership roles.
The content HEIST has a standardised format, while always including localised elements such insights on actors operating in the country and incidents that more commonly affect NGOs. But participants like Netherlands Red Cross delegate Camille Chatenier felt the difference that the all-women group made.
"I didn't think it would make a difference," Camille shares, "but in general we felt extremely comfortable participating and sharing. The fact that we were all women made us feel comfortable faster, and during the teamwork sessions we were all one hundred percent engaged."
Lalaissa, who has herself organised trainings, agrees that the dynamic was different. "There is a climate of trust, women felt free to talk to each other, that we won't be judged by our colleagues."
Participants with specific needs also shared that the training made them feel enabled and included. Before attending, Korotimi Berthe, Logistics Officer for STROMME, had assumed that she would not be able to take part in such an intense course while breastfeeding.
"I believed it would not have been possible," explains Korotimi, "but it was! I was able to make arrangements with the facilitators and it went really well. It was really encouraging for me to be able to fully participate. Nothing stands in the way of a woman participating in this training."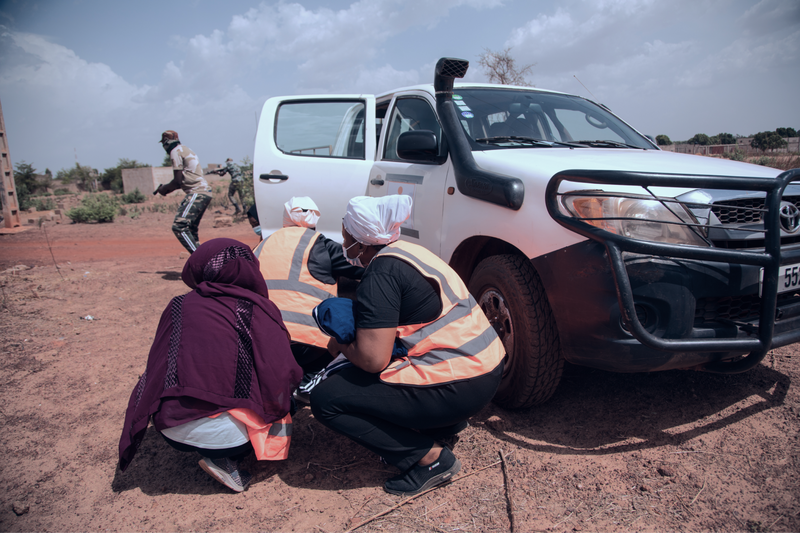 Helping all aid workers to keep safe
Ensuring that women have equal access to INSO services is a key focus for our training teams, and we recognise there is still work to be done. In 2021, around 18% of INSO training participants were women, an increase from 12% in 2020. We strongly encourage our partners to put all their staff – men and women alike – through INSO trainings. Because we know that being prepared can make all the difference.
As Mickaël puts it: "Both men and women humanitarians are exposed to risks, they need to be trained in the same way."
INSO's work supporting 167 humanitarian agencies in Mali is gratefully funded by the European Union (ECHO), Swiss Agency for Development and Cooperation, the United Kingdom's Foreign, Commonwealth & Development Office, and USAID's Bureau for Humanitarian Assistance.