"For me, INSO is the best placed organisation who can deliver a training like this one for humanitarians," explains Lassine Sidibe, a Security Advisor for Norwegian Church Aid (NCA) in Mali.
Alongside 15 others, Lassine recently participated in INSO's training focused on personal safety and security for humanitarians working in conflict areas entitled 'Hostile Environment Individual Safety Training' (HEIST).
Ahead of the training, all participants tested negative for coronavirus and were required to isolate for four days.
The training is a complex, immersive simulation exercise designed to provide participants with a safe environment where they can practice their skills and knowledge acquired during the course in high-pressure situations, and reflect on and learn from their experiences.
"NGO workers in Mali face risks in their jobs every day," explains Michela Bordin, INSO's Training Manager in Mali. "Trainings like the HEIST, which is adapted to the local context, help them to prepare for the kind of safety and security incidents they are most likely to encounter."
In 2020, INSO recorded a total of almost 200 NGO safety incidents in Mali, including 55 abductions and detentions, 14 injuries and one death.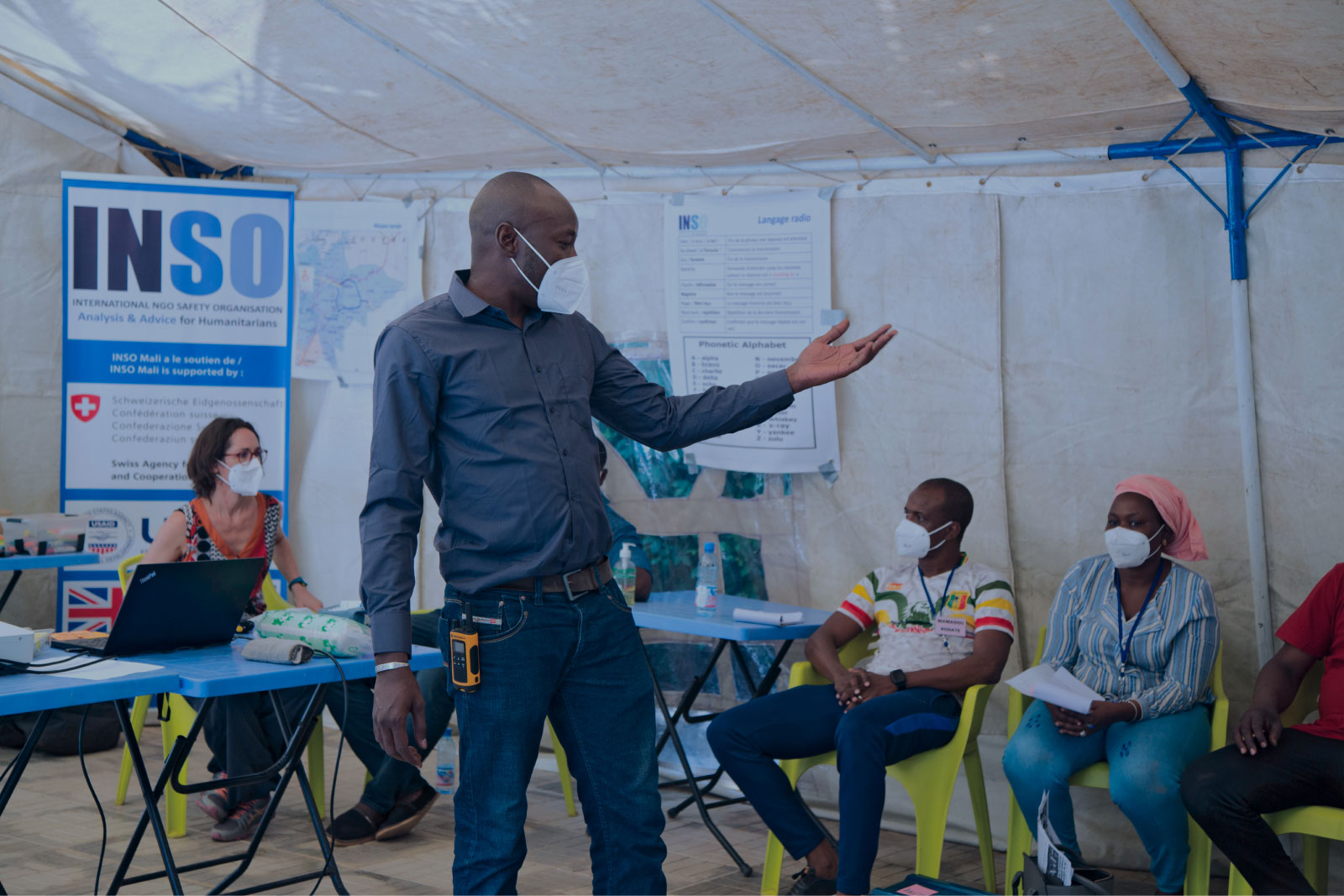 Theory and practice
Throughout the four-day training participants have the chance to discuss theoretical concepts and then immerse themselves in simulations.
"During the training we started off by talking and learning about common humanitarian language and the humanitarian space," explains Lassine.
"This is important because for someone that doesn't know security or the sector, this is the basic language and common principles and framework that we use. We then discussed concepts like acceptance and protection and how these translate into our everyday activities."
Oumar Yanogo, Head of Base in Mopti for Association Malienne Pour la Survie au Sahel (AMSS) also participated in the training. For him, the practical element was the most useful.
"The added value of this course [compared to other training he participated in] is that the simulation was really very close to reality," Oumar says. "When we were doing the simulation I truly felt like I was out in the field. And now when I go to the field, I always think about what I learned during the training and the behaviour we were taught."
"I could not have learned all these things in another way than during training, because you need to experience the situations properly to fully learn."
Free-for-all
Like all INSO services, the HEIST training is free of charge to registered NGO partners thanks to INSO's generous funding from the European Union (ECHO), Switzerland (SDC), UK (FCDO), and the US (BHA).
"It's very important that our training is free as many organisations would otherwise not be able to send their staff to participate," explains INSO's Michela Bordin. "If you were to pay for a course like this privately it would cost hundreds of Euros and particularly local NGOs simply can't afford that."
"These trainings are targeted at humanitarians who work day-to-day in the field, and are therefore most likely to encounter security risks. When we select participants we always aim to include as many staff working outside the capital as possible."
Throughout the six HEIST trainings held in Mali to date, over three-quarters of participants were based outside of the capital, Bamako.
"We see a clear overlap in the kind of staff not able to pay for this training and those working everyday in the field," INSO's Michela Bordin explains.
Oumar's national NGO is a prime example of that, however thanks to INSO's donor funding he only had to cover travel to Bamako, where the training took place, from Mopti, where he works, in order to participate.
The more people that are trained in this kind of training, the easier it will be for humanitarians to have access to populations in need. That's why I think it's important to keep this training free.
– Oumar Yanogo, AMSS
Enhancing a culture of safety
INSO's trainings aim not only to build the knowledge of individuals but also to support the whole humanitarian community.
"After the training I shared all this information and things that I learned with my colleagues as well as the staff of some of our partners," says Lassine.
In total he estimates that he has so far shared what he has learned with 24 colleagues and a further 30 people who work for Norwegian Church Aid's partner organisations. Whilst this knowledge transfer alone is not a substitute for participating in a practical training like the HEIST, it does help enhance the overall culture around safety and security.
Oumar also shared what he learned with his colleagues and they have subsequently added safety and security elements to a number of their regular ways of working.
He explains: "When I came back from the training I did a presentation to all the staff about what I had learned. As a result of that the staff asked me to integrate a security session into their monthly report. So now they we are doing that and we also now discuss security issues at our monthly meeting."
"This is a way for everyone to benefit from what I learned during the training," Oumar concludes.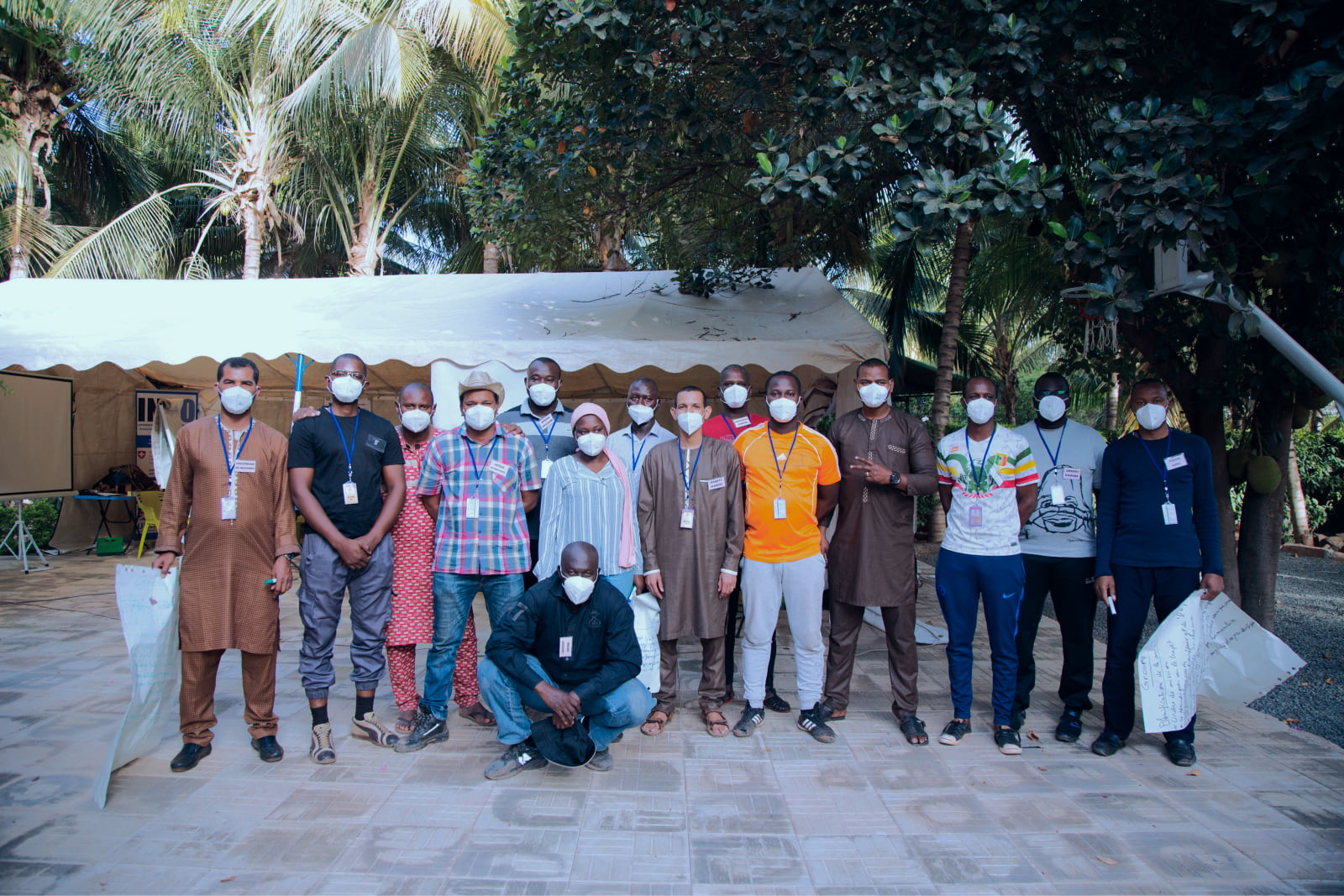 Building capacity
Trainings such as this one also contribute to developing the capacity of local humanitarians.
Lassine explains his own experience: "I have worked in many roles across the humanitarian sector – starting off from the bottom. Through the training and support that I have received from INSO I have built up my understanding and knowledge and today I am Security Advisor."
"I wouldn't be in this role if it weren't for the support from INSO. I am a product of INSO."
Alongside the HEIST training INSO currently provides a range of other trainings in Mali including essentials of safety and security management training, travel safety training and an introduction to safety and security course. In 2020, INSO trained over 250 people in the country, 92% of which were national staff.
INSO provides training in the vast majority of its country offices. If you are interested in participating in a future training and work with an NGO registered with INSO, get in touch with your local INSO contact.
INSO's work in Mali is gratefully funded by the European Union (ECHO), Switzerland (SDC), UK (FCDO), and the US (BHA).