The change of government and Islamic Emirate of Afghanistan (IEA) takeover in August 2021 has led to a significant decrease in conflict, allowing NGOs considerable space to operate. But for NGOs seeking to help people in need, challenges remain.
On 15 August 2021, the Islamic Emirate of Afghanistan (IEA) took control of the government in Afghanistan. Immediately, aid agencies faced a new environment and needed to define their position before a new government.
Two years later, the operating environment for NGOs looks very different. Conflict incidents recorded by INSO have fallen considerably, from close to 24,000 in 2020 to around 17,600 in 2021 and 3,100 in 2022 (CHDC, INSO). Yet, at the same time, government-perpetrated NGO incidents increased by 214% from 56 in 2021 to 176 in 2022. And while NGOs can travel without a significant risk of being attacked or caught in crossfire, many female staff cannot work.
So what is the state of aid in Afghanistan now, and how are organisations responding?
Navigating new realities
"The context right now shows deep, widespread humanitarian needs."
Greg*, a programme manager for an international NGO based in Kandahar, the southernmost province of Afghanistan, says compounding issues have left many millions of people struggling to meet their basic needs. His NGO, like many others, is working to meet them.
Beside the recent earthquake that struck on 7 October, killing more than 1,000 people, the country is also experiencing its third consecutive year of drought. According to the World Food Programme, this has led to Afghanistan facing the highest prevalence of insufficient food consumption globally. There are high levels of malnutrition, affecting millions of people.
The difficult economic situation is also placing pressure on struggling families. Exacerbating these issues are new laws inhibiting women's ability to work, as Nasir*, an international NGO advisor, explains:
"Where mothers were supporting their entire family and are now unable to work – whether in the beauty salon, in school as a teacher, at the university as a cleaner or in other places – this, of course, is a concern, not only for NGOs but for everyday life, as women are an important element of society."
It is easier geographically … but reaching all people is harder."
At the same time, the end of the war means NGO access is far less restricted; staff can travel by road with relative ease to previously inaccessible regions. But this does not mean that all people in need are easily reachable.
"It is easier geographically, where NGOs can travel to many locations previously hard to reach or inaccessible altogether. This means more communities getting access to aid," says Beatrice Barco, INSO Safety Advisor.
"However, reaching all people in need is harder. Women and girls, especially, are not as accessible because female aid workers are less able to work, and it is unacceptable for male aid workers to work with women."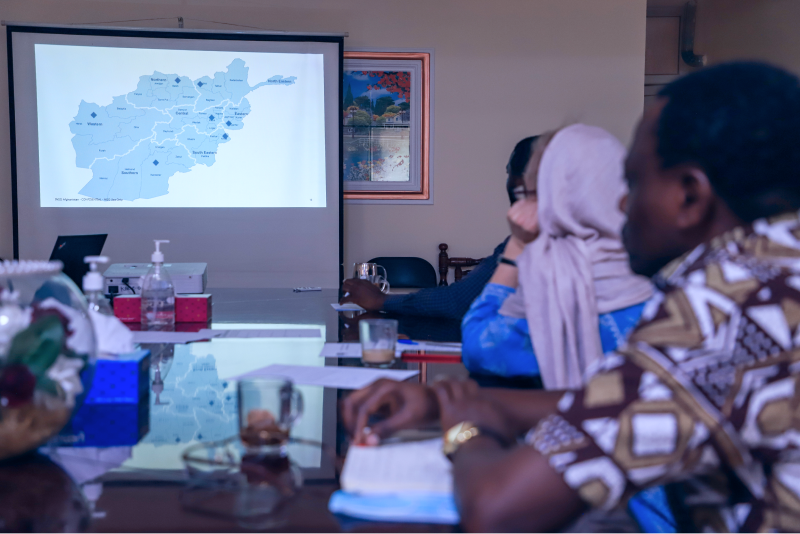 A transformed humanitarian context
High needs but greater reach, lower security risks but increased bureaucratic challenges: the NGO operating environment in Afghanistan is contradictory. Constant negotiation with authorities on programme implementation has become particularly critical to NGO operations.
"We are negotiating frequently, especially regarding interference in our project," describes Greg.
Areas such as recruitment, types of programmes and logistics – and whether female staff can work –require extensive negotiation. For this reason, Greg says NGOs must have a coordinated approach based on the needs, reality and perspectives of the people they are trying to serve.
"While we must work with the de facto authorities, there are a few points we cannot accept. Right now, we are still working to find a balance between the need to get access and the need to have your [organisation's] basic principles respected all the time."
To find this new balance, NGOs require the right information at the right time and need to know what to do with it. Being able to coordinate and confirm these strategic decisions is also essential.
Supporting safety & access
Like all NGOs, the INSO team has adjusted its approach to reflect the new needs of partners.
"The landscape has changed, but we remain intimately connected to NGOs' needs," states Beatrice.
As a coordinating forum, INSO regularly brings NGO colleagues together in a safe space to discuss strategies and triangulate information. Greg says that while the reports and updates are helpful, it's these coordination opportunities that he most benefits from.
"[When I join roundtables], we can discuss common concerns and feelings about the situation. Having several organisations at the same table, facilitated by INSO, is very good. We can make a common strategy and understand what the other organisations are facing now."
Our team in the South has also taken advantage of newly accessible areas to gain valuable insights and meet partners in person. Beatrice explains this initiative:
"We physically visited all regional provincial capitals, where we conducted Security Roundtables for new and old partners – many of whom we had never met in person. Our team met with all NGOs in the location during each mission, including many national NGOs. These humanitarians have been doing the most difficult job, with little to no support from outside their community.
"We showed our NGO colleagues that we are not just an alert or report, but a person. This mission allowed us to hear their perspective and build trust."
Besides meeting partners, the team also conducted road assessments and assessed mobile network coverage conditions. Since these missions, many partners – including Nasir – have come to INSO for this information to inform their own trips.
"I was contacted by a colleague who wanted a specific road assessment for an essential trip. I went directly to INSO and asked, 'Can you send the road trip report?'. Almost immediately, they provided me with the road situation, network connection, the security situation, everything."
Committed to continuing our support
While Afghanistan has many uncertainties, our support to NGOs is sure. And, as echoed by Nasir, this support remains critical.
"INSO is providing information that makes it easier for NGO workers to prepare for possible incidents and to mitigate existing risks. The role of INSO is still very important here in Afghanistan."
*For safety reasons, some names have been anonymised.  
In 2011, INSO Afghanistan evolved from the Afghanistan NGO Safety Office. We provide services across the entire country and are gratefully funded by the European Commission, the Swiss Agency for Development and Cooperation, the United Kingdom's Foreign, Commonwealth & Development Office and the Norwegian Ministry of Foreign Affairs.