In the last four years, access for humanitarians in the northeast of Nigeria has reduced dramatically. Lingering conflict, targeting of humanitarians, and collateral risks around election-related violence make NGO's work increasingly dangerous.
Over a decade since the conflict in the northeast of Nigeria began, 2.2 million people are displaced and over 8.3 million people require humanitarian assistance.
Conflict on the doorsteps of communities has made it difficult for people to access basic necessities or maintain livelihood activities. The region continues to witness violence against civilians. Last year in Borno state alone, there were 435 incidents perpetrated by OAGs where 858 civilians were abducted, 396 killed and 337 injured.
Ongoing insecurity has led to many communities becoming nearly or entirely impossible to access with humanitarian assistance, as Yasmine Chawaf from Nigeria INGO Forum (NIF) explains.
"This remains a conflict and protection response, and security remains the biggest impediment to access in the Northeast, and the biggest issue for people living here," says Yasmine. "We estimate that there are more than a million people living in completely inaccessible areas, including in areas that are under the control or influence of armed groups."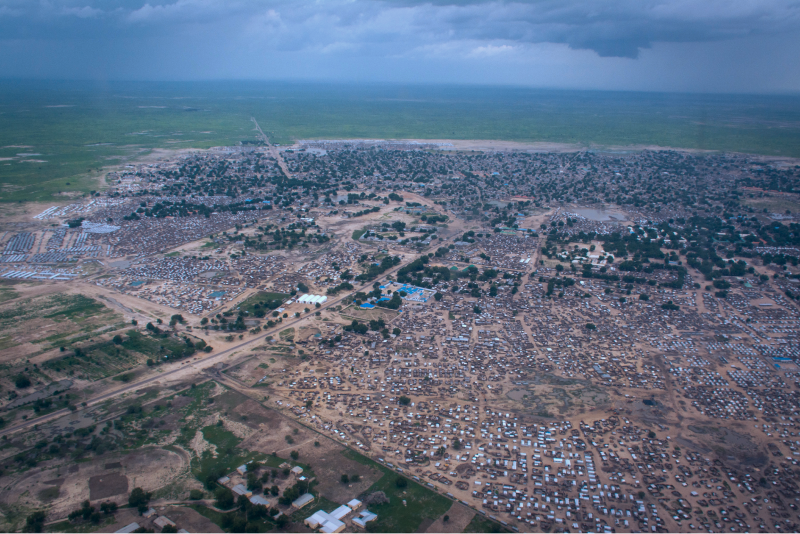 NGOs also face increased hostility from armed groups, which has led to an increase in attacks against humanitarians and their assets.
"The main risks for NGOs working in Northeast Nigeria is the threat of attacks emanating from organised armed groups," says Guillaume Bernardeau, Country Director for INSO in Nigeria. "In 2022, our team recorded 53 incidents involving NGO staff. The vast majority of these incidents have been robberies, but there have also been cases of abduction, attack, and where NGO-affiliated property has been damaged."
At the same time, other seasonal factors, such as the rainy season – a period from July to September where road ambushes and checkpoints increase – and violence related to the election season from October to March 2023, also restrict humanitarian activities.
Navigating a volatile election season
"In the first quarter of 2023, we recorded 101 instances of politically-motivated violence," says Guillaume. "Our partners needed to understand how election-related violence and other events significantly impacting security and access conditions might affect NGOs' security and access. During election season INSO published several related reports, keeping NGOs up to date and recommending mitigation measures where necessary."
But not only politically-motivated violence affected NGOs operations during elections. In an unprecedented move, the Adamawa State authority ordered the suspension of NGOs' activities on 28 February 2023 with immediate effect until the gubernatorial elections were concluded. The ban came amid heightened electioneering activities during the February and March general elections. While some NGOs were also accused of engaging in politics, the ban was said to be in the interest of NGOs.
To mitigate potential reputational and safety risks to NGOs, INSO was part of a dedicated task force, co-leading a coordinated effort for all NGOs along with NIF and OCHA. Our team provided updates and practical advisories that helped NGOs minimize their exposure to related potential risks. The ban was eventually lifted on 29 March.
Beyond elections, INSO also provides support to NGO staff during emergency situations.
Assistance during emergencies
Because of insecurity, garrisoned (heavily secured) towns are some of the few locations where NGOs can more safely maintain bases and operations. But even these towns are at risk of attack. In the last year, there have been around 95 attacks on these towns.
In one instance, Kabir Adamu, eHealth Nigeria Security Advisor, recalls an instance when his staff, members of Kabir were in Ngala when the town was attacked. At first, the staff remained in place and inside, but the situation deteriorated and the staff needed to get out.
"INSO facilitated the evacuation and helped my staff to get out safely," says Kabir.
On another occasion, in Dikwa in 2021, Nasir Muhammad, acting Security Manager for ACTED in Nigeria, says his team was working in several displacement camps within the town when there were indications that something was going to happen.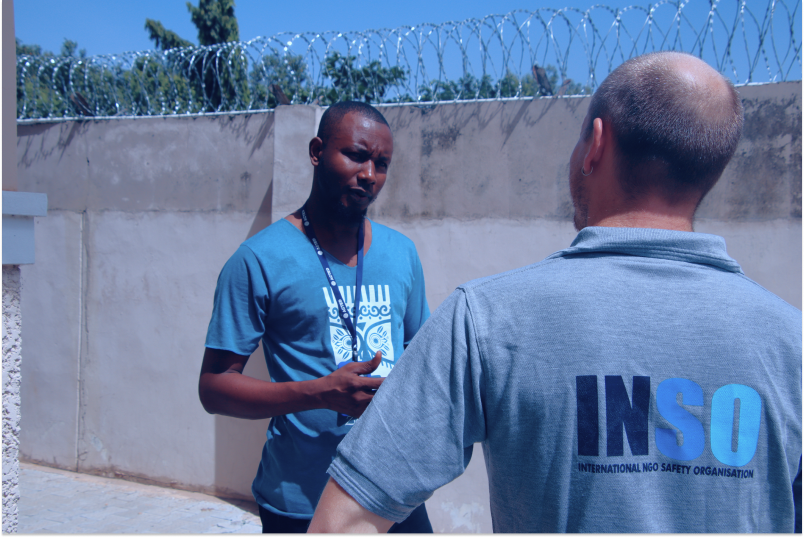 "I received information that operatives were gathering on the outskirts of town. I checked with INSO who verified the situation. Almost immediately, INSO shared an alert advising NGOs to take proactive measures. That was at about 4:00 pm.
"Based on that information, I contacted my staff and told them to return calmly but quickly to base. By 4:30pm, all my staff were in the saferoom within our compound."
At around 5:15 pm, the attack on Dikwa began.
Nasir and INSO remained in close contact throughout the evening and into the early morning. There was one point in the night where Nasir heard operatives nearing his organisation's compound while he was on the phone with his colleagues.
"[The staff] could hear the OAGs right outside, while they were in the safe room. What helped them is their action of what they learnt from INSO training – putting their phones on silent, maintaining very little movement, no talking."
During this attack, INSO supported all affected NGOs in securing an emergency movement clearance. The team also provided ongoing updates and information on the situation on the road.
"With the support of INSO … we were able to evacuate all our staff safely and without incident."
Informing humanitarian access & operations
Ongoing insecurity related to elections, seasonal changes or armed group activity has increasingly constrained access. Knowing where and how to safely reach people in need is only becoming more important – and trustworthy information from INSO on road safety, security incidents, governmental processes and requirements can make a significant difference.
Yasmine says that for her work supporting international NGOs, it has been useful to have access to the Conflict & Humanitarian Data Centre (CHDC), launched in early 2022.
"I use it all the time, especially when I am looking at a specific issue. This is amazing, and I think it was a missing piece before: a common database that NGOs could access," shares Yasmine.
For Nasir, working with INSO has been a long-standing and beneficial relationship.
"I started working with ACTED in 2016 and INSO was one of the first partners who we worked with," he says. "They have given us more support than any other partner."
INSO operates in North-East Nigeria, covering Adamawa, Borno, Gombe and Yobe states. Our field office is in Maiduguri, Borno State and the coordination office is in Abuja, Federal Capital Territory, which also hosts INSO's training facility for Nigeria. We are gratefully supported by USAID's Bureau for Humanitarian Assistance, the Swiss Agency for Development & Cooperation, the European Commission and the United Kingdom's Foreign, Commonwealth & Development Office.