The 22nd of May was a normal Saturday night in Goma, Democratic Republic of Congo (DRC), until the sky suddenly became bright red. The famous Nyiragongo volcano, which sits just 15km to the north of the city, was erupting.
Panic quickly spread throughout the city of an estimated 1.5 million people – which is still recovering from the last eruption in 2002 that killed more than 200 people and destroyed almost a third of Goma.
Many thousands of people began to flee their homes, including members of the NGO community. International Organisations – including INSO – activated their emergency plans.
While the lava flow stopped on the outskirts of the city, the next few days saw hundreds of small to medium earthquakes up to a magnitude of 5.3 on the Richter scale. These caused damage to roads and houses across Goma and in Gisenyi in neighbouring Rwanda, and also brought its toll of emotional stress.
On Thursday 27th of May authorities ordered the evacuation of over 400,000 people living in 10 high-risk neighbourhoods for fear of continued volcanic activity.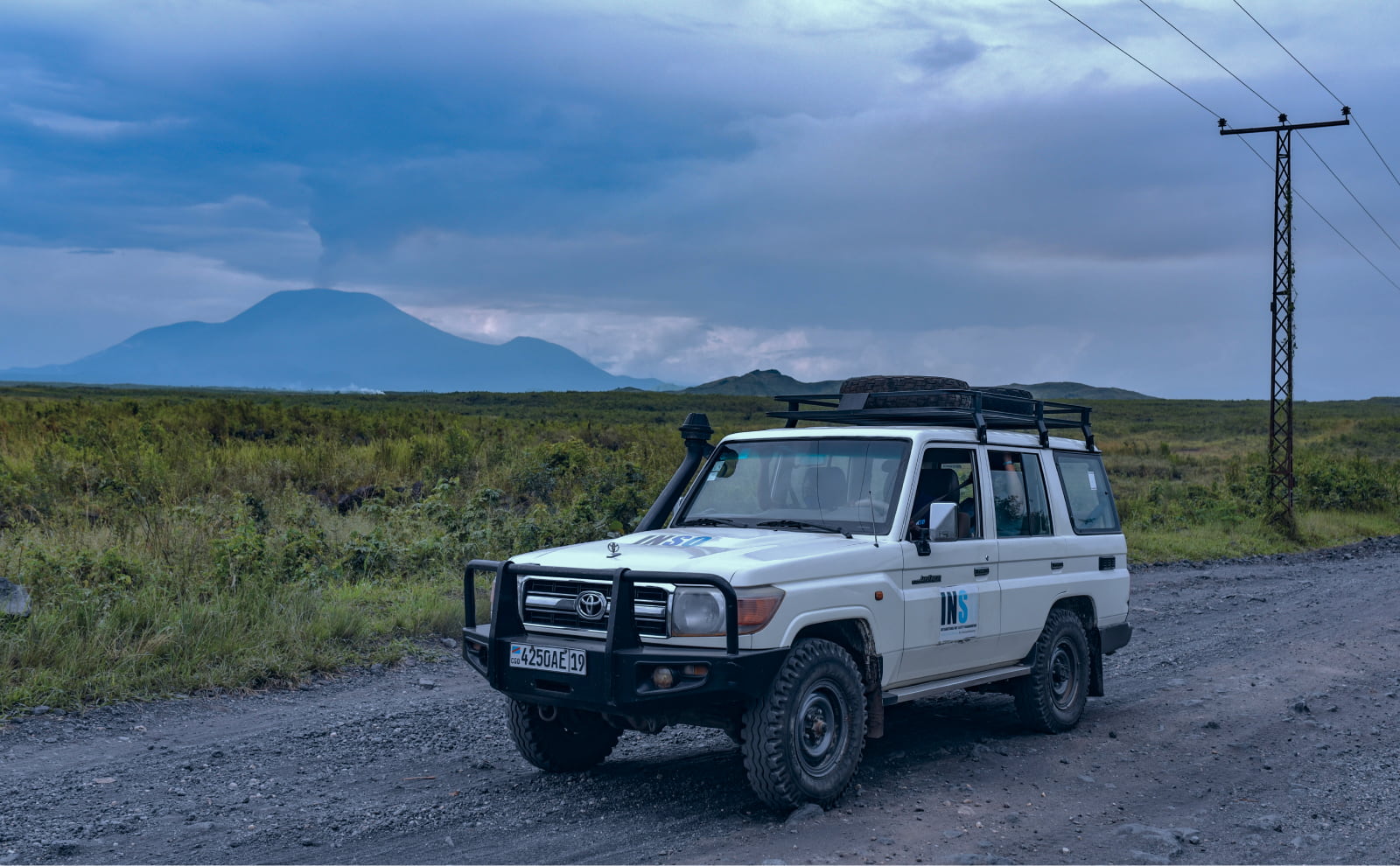 Coordinating emergency response and delivering services
As soon as INSO had ensured the safety of its staff and their families, teams got to work providing vital information to its NGO partners to support them through the chaotic aftermath of the eruption.
On the night of the eruption, moving around the city to assess the situation became impossible due to of the high risk from the volcano and the widescale movement of people. INSO staff quickly activated their networks to gather the best information they could to inform and advise partners and their staff.
The city hosts a large humanitarian and international community working for international NGOs, UN agencies and MONUSCO.
"We have more than 110 partners based in North Kivu, the province in which Goma sits," explains Nadia Berger, INSO's Country Director in DRC. "Our priority was to make sure that they had access to timely and accurate information so they could make informed decisions and keep their staff safe."
Despite the difficulties, INSO DRC continued supporting its partners throughout the crisis, even though some of INSO's team also had to leave their own homes. The priority was to focus on the continuity of regular services in all parts of eastern Congo.
"Despite the event, INSO has maintained its quality of service by continuing to provide alert and analysis for the rest of the country affected by security incidents", explains Jean-Philippe Barroy, Country Director of Solidarités International. "This allowed the community to continue the humanitarian response in eastern DRC."
Berger expands: "COVID-19 has forced the team to strengthen its online-only services which proved extremely useful during this moment. We were able to facilitate security meetings with our partners even when much of our team was physically located outside of Goma."
Lessons learned
Accessing reliable information was a challenge. Berger explains: "Given that INSO's area of expertise is generally focused on conflict rather than natural disaster, one of the main challenges we faced was to ensure that the scientific information shared by INSO was accurate."
The information received was sometimes complex to unpack and difficult to analyse. In such circumstances, it is crucial for INSO to carefully select information that should be shared with the NGO community to avoid misinformation.
"In situations like this there is a fine line between sharing too much information and not enough information", adds Berger.
"While this was not our area of expertise, it was important to continue supporting our partners through this event to help them make the right decisions on relocation or evacuation of their personnel. For example, they needed to be reassured that the relocation areas or the roads they were using for their movements were safe."
INSO was also part of a broader coordination with the international community, including the United Nations entities, to ensure coherence in the response to the emergency but also facilitate exchange of crucial information and analysis.
"Linking the NGOs with a volcanic expert during the Country Directors meetings facilitated by INSO allowed us to have reliable and precise information and helped up in making informed decisions for our programmes and staff", explains Violette Tournier, Health Safety and Security Manager for Norwegian Refugee Council.
In a context where nobody was really prepared and there was limited information available, INSO succeeded in being a focal point for the INGOs.  –  Solidarités International's Barroy
After hard work from the NGO community, no significant NGO incidents were reported during or after the crisis. NGO staff who were relocated during eruption period have now returned to Goma and are working to support the community. Some 4,000 households remain displaced and humanitarian needs in the city remain high.
Looking forward
This eruption was a reminder that the volcano represents a high risk and that the NGO community needs to be prepared for a large-scale eruption.
The population of Goma, including NGO staff, have learned to live with this risk but it must not be forgotten. Such dangers must be both built into contingency plans and considered through regular working practices to increase the staff awareness and preparedness.
"In a conflict zone we often have signs that something will happen, and we can prepare our teams for that, but with natural disaster it is harder to predict and because the likelihood of such disaster to happen is somewhat lower, we can never be fully prepared mentally", concludes Berger.
INSO currently supports 115 international NGOs and 26 local NGOs across eastern Democratic Republic of Congo in North Kivu, South Kivu, Tanganyika and Ituri provinces with services to ensure that humanitarians are able to operate safely and deliver their programmes.
INSO is gratefully funded in DRC by USAID-BHA, European Union (ECHO), Swiss Development Cooperation (SDC), German Ministry of Foreign Affairs (GMFA) and the Swedish Embassy (Sida).